Meet Our Team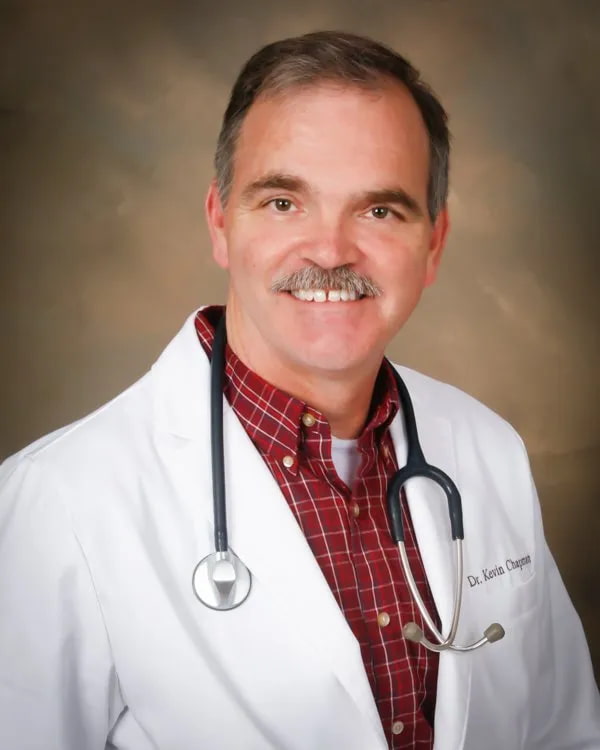 Dr. Kevin Chapman
Owner, Veterinarian
Dr. Kevin Chapman's mother worked as an emergency room nurse while he was growing up, and young Dr. Chapman adored accompanying her to the hospital and meeting the heroes who saved lives on a daily basis. When he and his family took an injured dog to their local veterinary office one fateful day, Dr. Chapman had a startling realization: he could combine his love of medicine with his passion for pets! He's known since the age of 12 that he wanted to become a veterinarian.

Originally from Colorado, Dr. Chapman and his family settled in Georgia after several moves. He attended the University of Georgia, majoring in agricultural microbiology and completing his pre-requisite requirements for veterinary school, before earning his Doctorate from the University's College of Veterinary Medicine.

After graduation, Dr. Chapman accepted a job at a veterinary clinic in Punta Gorda, Florida. A year later, he proposed to his wife and moved back to Georgia, where he took a position at a local animal clinic. Dr. Chapman would remain there for the next seven years—by 1995, though, he was ready to open his own practice in order to supply his compassionate brand of veterinary medicine to the pet owners of the area. He achieved his dream when he opened the doors of Hoschton Animal Hospital to the public!

Medically, Dr. Chapman is fond of surgery and diagnostic work. His favorite part of every day, though, is interacting with his clientele in the exam room; he works hard to keep everything positive, and believes strongly that "attitude determines altitude!"

Dr. Chapman lives with his wife Sue, who works as a faculty member at the University of Georgia, and their son, Noah. The family shares their lives with a pair of black Labrador Retrievers, Laser and Artie, as well as a red tabby cat named Dexter. They also have two outdoor cats, Tango and White Feet, who guard the barn.

When he isn't caring for pets here at the clinic or spending time with his family, Dr. Chapman enjoys tending to the nearly 30 goats he raises on his property, skiing in the wintertime, fishing, and serving as a coach in recreational football leagues.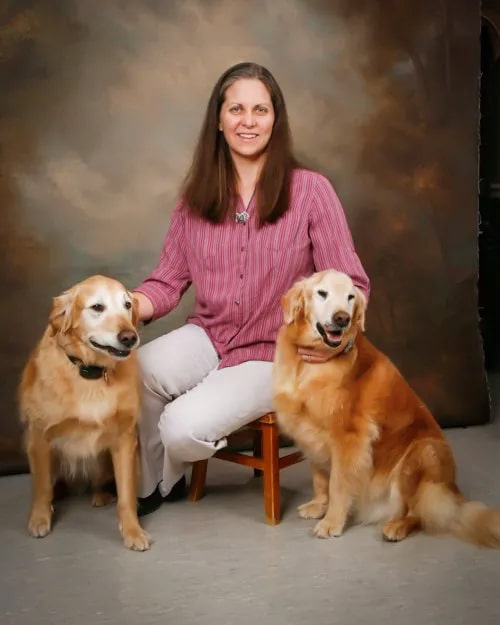 Dr. Mandy Roberts
Associate Veterinarian
Dr. Mandy Roberts' first pet, a Siamese cat named Max, joined her family when Dr. Roberts was only four years old. She fondly remembers going with Max to the vet's office, where he received vaccines and was declawed and neutered. Dr. Roberts tended to him when they got home, and she fell in love immediately. She decided right then and there that she was going to become a veterinarian herself!

Dr. Roberts grew up in St. Louis, Missouri as the oldest of three children. She began her veterinary career at the ripe age of 14, when she started as a kennel attendant at a pet clinic in Marietta, Georgia. By the time she was 18, she was assisting with exams, dental work, vaccines, and even surgeries! Dr. Roberts attended Auburn University after high school to study animal and dairy sciences before gaining acceptance into the University of Georgia's College of Veterinary Medicine to earn her DVM degree.

Shortly before graduating from veterinary school, Dr. Roberts attended a University of Georgia and Auburn University tailgate event, where she first met Dr. Chapman. Although the two were cheering for opposite sides—Dr. Roberts was decked out in Auburn attire, while Dr. Chapman was supporting his beloved Dawgs —they connected, and Dr. Chapman invited Dr. Roberts to set up an externship here at the clinic. It didn't take long for Dr. Roberts to realize that Hoschton Animal Hospital was exactly where she wanted to start her veterinary career! She's been a part of the clinic family since 2006.

Dr. Roberts, her husband, and their children share their home with three lovable dogs: Scooter, Harley, and Molly. When she has a spare moment between her busy work and family schedules, Dr. Roberts enjoys bicycling, gardening, and playing the drums. She's been a percussionist for over 15 years—she played the tenor drums in Auburn University's drumline for three years, and currently plays for her church in Braselton.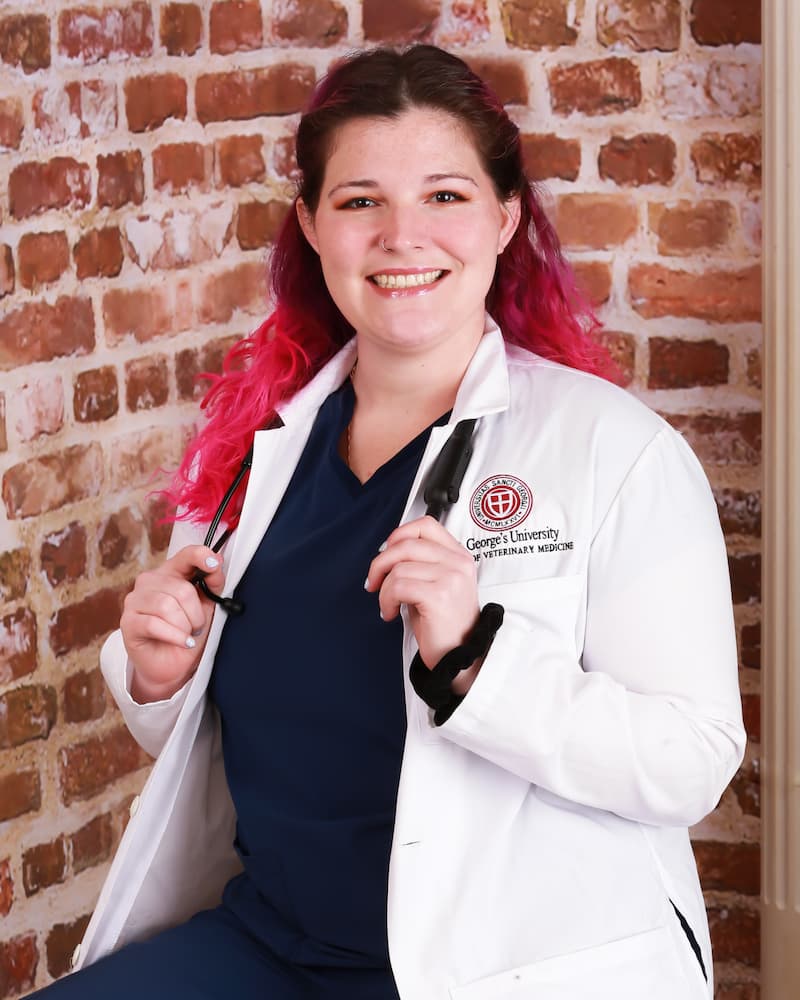 Dr. Alexandra Frangiosa
Veterinarian
Dr. Frangiosa grew up outside of Philadelphia. In elementary school, she had to write a report for school on a rainforest animal. She picked orangutans due to their color (her favorite is orange) and fell in love with them. This started her love for animals and desire to become a veterinarian, to hopefully save this species (and others) from the illegal pet trade. At 16, she began an internship at the Philadelphia Zoo as a primate educator, teaching the visitors all about the apes they housed.

She continued her journey at Clemson University, where she graduated with a degree in Wildlife and Fisheries Biology and a minor in Forest Resource Management. During these four years she was able to go to Belize for six weeks to work with exotics and wildlife (including Howler monkeys, kinkajous, and a boa constrictor!), followed by several weeks in Indonesia with a rescue organization and finally met an orangutan face to face. These experiences cemented her love for animals, especially exotics.

She graduated from St. George's University School of Veterinary Medicine in 2022 and joined the team at Hoschton right after graduating. Her special interests include all things exotics (specifically reptiles), as well as dentistry and ophthalmology.

In her free time, you can find Dr. Frangiosa working on crochet projects with her two cats, Olaf and Bailey, cuddling by her side. Her other hobbies include crushing it in Mario Kart, playing DND, and playing board games with her fiance.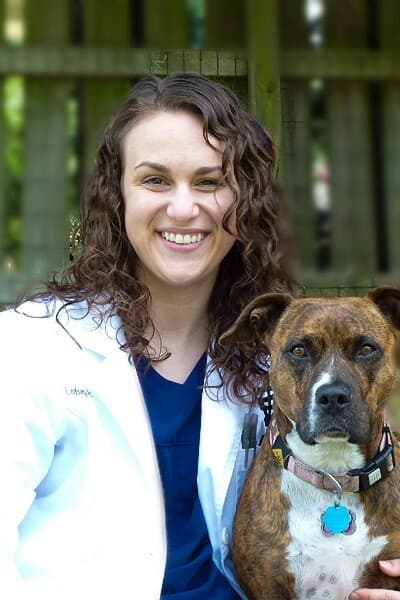 Dr. Lindsey McKnight
Veterinarian
Dr. McKnight started off cleaning kennels in a clinic in coastal Mississippi. She worked her way up to become a technician before starting high school. She sharpened her skills over the course of her high school career and solidified her desire to pursue veterinary medicine. Upon entering college, she played soccer for two years and graduated scholar-athlete of the year from Meridian Community College. She then decided to get serious about a career and transferred to Mississippi State University to earn her bachelor's degree in wildlife, fisheries, and aquaculture. Dr. McKnight spent most afternoons in the field studying plants and wildlife, but in her spare time, she enjoyed coaching for a U-5 recreational soccer league and participating in habitat for humanity. She traded in her outdoor office for vet school and graduated from Mississippi State University College of Veterinary Medicine. She has special veterinary interests in behavior, soft tissue surgery, and dentistry. However, her favorite part of being a veterinarian is building special relationships with her clients and patients.

Dr. McKnight is a big football fan- HAIL STATE! She is an avid outdoorswoman with a passion for North American wildlife. She enjoys playing any sport, fantasy football, hiking with her dog, spending time with her two boys and husband, and cuddle time with her cat.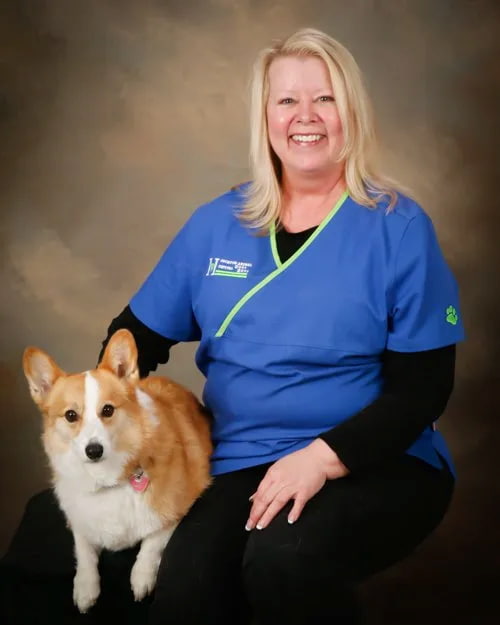 Wendy Keene
Office Manager
Wendy has adored animals ever since she was young, and she loves the satisfaction of helping other people. By working in the veterinary industry, she's able to satisfy both passions on a daily basis! Wendy has been a member of the Hoschton Animal Hospital family for 10 years, and now serves as the clinic's Office Manager.

Wendy grew up in eastern Canada, but has lived in the South for the majority of her life. She worked in various fields—including law, engineering, and golf course architecture—before deciding to become a veterinary professional. She joined the Hoschton Animal Hospital team in 2006 and has been here ever since! Wendy particularly enjoys forming lasting relationships with long-term clientele, and also likes the fact that no two days here at the hospital are ever quite the same.

Wendy has three dogs of her own at home: a Welsh corgi named Reilley; Max the Jack Russell terrier; and a German shepherd mix named Falcon. She also has a grand-dog, Sam, who lives in Atlanta with Wendy's daughter, Jessica.

When she has time outside of work, Wendy enjoys spending time with friends and family, antiquing, repurposing old furniture, and traveling.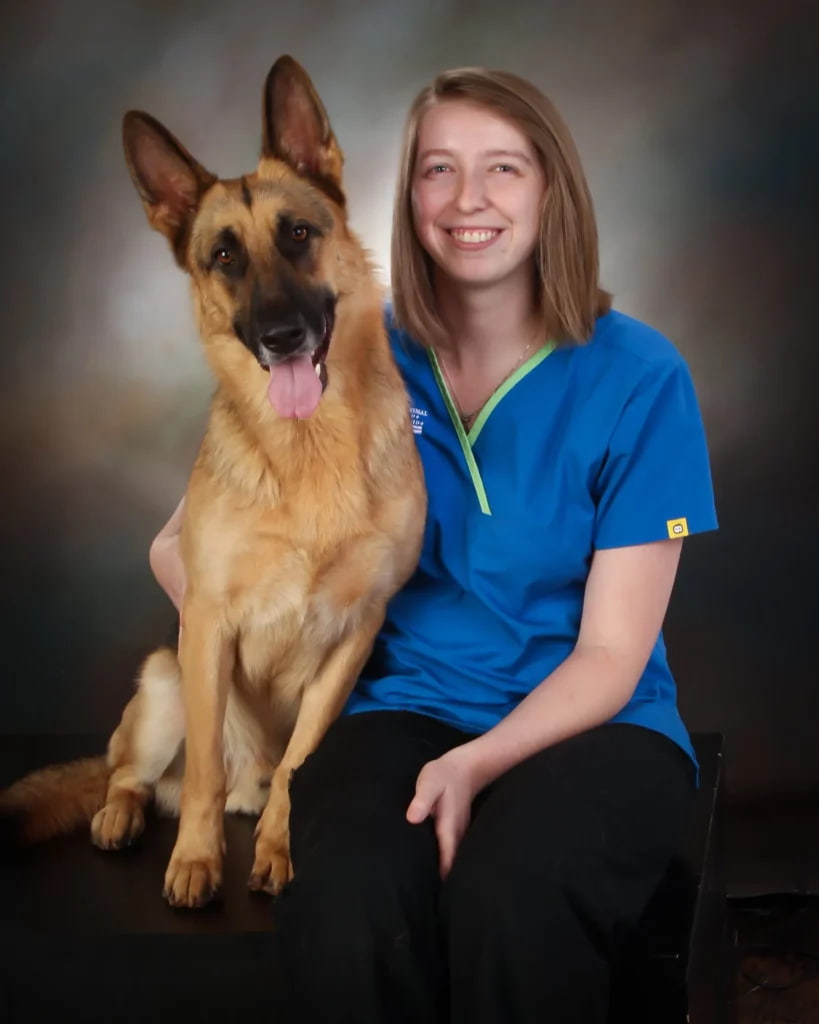 Abbey Phillips
Medical Services Coordinator
Abbey grew up on a farm in Forsyth County, Georgia, alongside her two older sisters, her parents, and animals of all shapes and sizes. Abbey spent her childhood helping to raise everything from puppies, kittens, and horses to cows, birds, and lizards. Her early experiences with animal care made a permanent impression—now, Abbey gets to use her fascination with medicine and science to better the lives of the pets she loves!

Abbey's journey in animal care began at the North Georgia Zoo, where she worked her way from the ticket booth to a position as Animal Sales Manager, and then into the caretaking and training side of the facility. After a few years spent caring for creatures there, she decided that it was time to move into the veterinary world while studying biology in college. Abbey became a Receptionist and Veterinary Assistant at a busy eight-doctor practice, where she learned the ropes of the profession and developed her love of animal medicine even further.

After moving to the Auburn area, Abbey was thrilled to join the team here at Hoschton Animal Hospital and especially likes that she's able to use her experience with exotic animals and wildlife here at the clinic. She's passionate about animal training—Abbey is currently in the process of becoming Fear-Free Certified!—and also loves to educate the area's pet owners on proper animal care techniques.

Abbey's interests outside of veterinary medicine include spending time outdoors and practicing her photography skills, a passion she developed after serving as a tour photographer during her time at the zoo. She's even started her own small photography business! At home, Abbey and her boyfriend, Chris, share their lives with three dogs—Sebastian, a smart German Shepherd whose favorite pastime is playing fetch; Duke the Boxer/Pit Bull mix who was adopted by Chris at nine months of age; and a rescued dog named Roscoe who sleeps on Abbey's pillows every night—as well as a loveable bearded dragon named Ollie.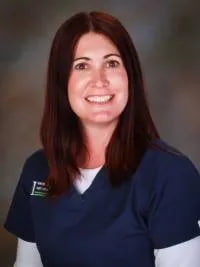 Amy Snelgrove
Practice Manager
Amy took in many stray animals during her childhood years, feeding them and nursing them back to health. For her, helping pets simply comes naturally! A career spent tending to the needs of animals and their owners is the perfect fit—Amy is proud to serve as a Client Service Representative with the Hoschton Animal Hospital team.

Amy is originally from Connecticut and moved to Florida with her family when she was only 12 years old. She began working in a kennel in Orlando while attending the University of Central Florida, and was trained on-the-job as a Veterinary Technician and receptionist. She's worked in veterinary medicine ever since!

Amy and her family moved to the Buford area in the summer of 2017, and she joined the Hoschton Animal Hospital team later that year. Her favorite part of every shift is interacting directly with the area's pet owners, and she also has a special passion for animal nutrition—Amy never tires of getting to see the rewarding changes in a pet's skin, fur, and weight once they start eating the proper diet.

When she isn't helping others here at the hospital, Amy can be found relaxing at the beach, reading a good book, or spending quality time with her family. She and her daughter, Makayla share their lives their dog—Jazz the terrier mix; a rescue kitty named Colby Jack.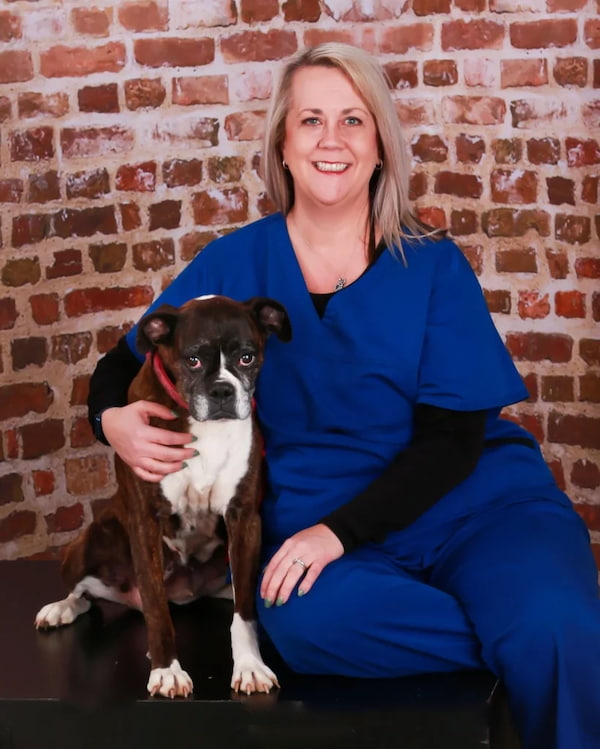 Marie Plymail
Lead Client Service Representative
Marie spent 28 years teaching dance, but decided it was time to find a new career. She had always loved animals and wanted to be around them daily, so a position at an animal hospital made sense. Lo and behold, she was able to join the Hoschton Animal Hospital team as a customer service representative!

Born in Texas, Marie was raised in Georgia with her family. Her mother owned two dance studios, which is where Marie got her passion for dancing from. That was her career choice until the veterinary world came calling.

Even while teaching dance, Marie's life still revolved around animals. She found herself helping transport pets to a local shelter, and this eventually sparked her to work more in the rescue world. She soon began to foster animals and loved the feeling of saving and making a difference in animal lives.

When it comes to her present career, Marie loves seeing and helping treat all of the amazing pets and exotic animals that come into the door. She also likes talking to clients and assisting them with whatever they need, whether it's a normal checkup or an emergency. Another aspect of the job she enjoys is working closely with an amazing staff of coworkers!

Marie is married to her husband Michael, and they have 4 children and 3 grandchildren. Since her and husband are empty-nesters, they are kept busy by their 4 dogs and 1 cat, all of which are rescue animals.
Shelby Rice
Client Service Representative
Shelby grew up on a farm in the small town of Royston, where she spent time around everything from dogs, cats, and horses to pigs, goats, cows, and chickens. It wasn't difficult for her to fall in love with animal care at an early age—Shelby always suspected that she would love to work with the earth's creatures in a hands-on way. When the opportunity arose for her to use her background in customer service within the world of animal care, she jumped at the chance!

Shelby studied early childhood education during her college years in Valdosta, then taught for a few years after graduating. She transitioned into the customer service industry for a number of years before deciding to follow her heart and do something she truly loved: helping animals. Shelby joined the front-desk team here at Hoschton Animal Hospital in the summer of 2020 and has been enjoying every moment since! She especially likes swapping fun pet stories and getting to see the incredible bonds between pets and owners up close.

When she isn't here at the clinic, Shelby likes staying active in the great outdoors by hiking, camping, kayaking, and stand-up paddle boarding. She also enjoys trying new vegetarian dishes and cuddling up with her pets and a good book or Netflix program. Shelby lives with her boyfriend, Michael, and three pets: Junior, a Corgi/Border Collie mix who is the most loyal guard dog Shelby has ever known; Roxie the timid Corgi/Australian Cattle Dog mix; and a loveable cat named Kitty.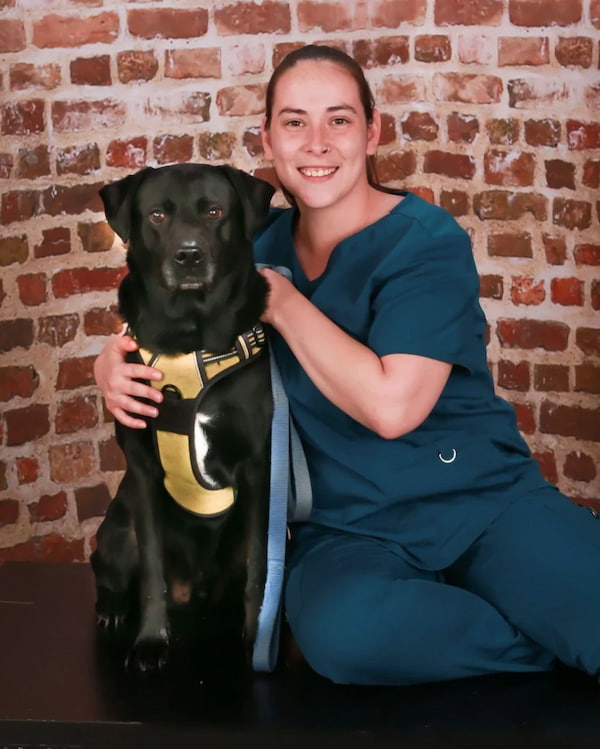 Michelle Hanes
Veterinary Assistant
When Michelle was younger, she used to watch commercials that featured abandoned animals that would find new homes. She remembers thinking to herself, "That's what I want to do." Today, as a veterinarian technician at Hoschton Animal Hospital, she's not only able to help animals, she's also able to save their lives!

Michelle's veterinary journey began at a small clinic, where she grasped the basics of handling animals and becoming familiar with all of their medications. She took this knowledge and brought it to Hoschton Animal Hospital, where she is learning even more about the field with the assistance of her helpful coworkers. Her favorite part of the job includes drawing blood from animals and taking x-rays, because you never know what you're going to find.

A native of Kansas City, MO, Michelle would eventually move to Georgia, where she started a farm with her husband and their son. Michelle enjoys spending time tending to her farm, which boasts pigs, chickens, goats and a big garden!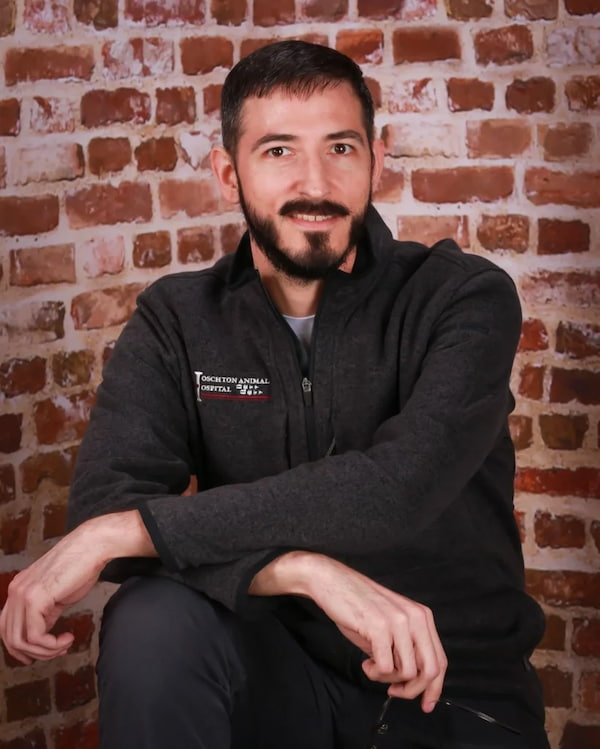 Phil Lang
Veterinary Assistant
A self-proclaimed "military brat," Phil spent most of his childhood surrounded by animals. Growing up, you could usually find him volunteering his time or helping other pet owners better understand how to engage with their fur babies. As a Veterinary Assistant here at Hoschton Animal Hospital, Phil appreciates being able to advocate for individuals who cannot advocate for themselves.

Phil's career began in a kennel, where he worked 10 hours a week. Management was so impressed with his stellar work ethic, that they quickly promoted him through the ranks. He made it to surgical technician in just two years. Professionally, Phil enjoys educating clients on proper care and how to interpret their pets' feelings. As a teammate, he is hard working, reliable and always willing to go the extra mile.

At home, Phil has a wife and two children, as well as three dogs and four cats. While Phil's priority is keeping his family happy, the small amount of spare time he has is usually spent playing video games, working on cars or watching a good movie.